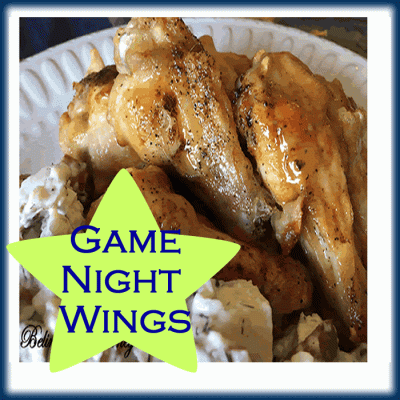 For me, there is no better game-time snack then Wings! The biggest issue with Wings is finding the perfect sauce! This Recipe is the perfect game night snack so make sure you make plenty!
Ingredients:
Honey Mustard Sauce
1 tablespoon butter – preferably unsalted
2 cloves minced garlic
3 tablespoon honey
¼ cup. Dijon mustard
1 tablespoon hot sauce (you can leave this out)
Chicken Wings
3 – 4 pounds chicken wings
salt and pepper
Directions:
 Preheat the oven to 425 degrees.
Using a rimmed baking sheet spray it with non-stick spray.
Place chicken wings on baking sheet. Don't pile them on or have them touching.
Season with salt & pepper and bake approximately 45 – 50 minutes until nice and crispy.
After they have been baking about 20 minutes:
Place garlic & butter in a saucepan. Heat over medium-high heat. You want the garlic to be translucent.
Put on low heat and add Dijon mustard and honey, stirring well. Simmer so that the honey dissolves, just a few minutes. Remove from heat. Now is when you add the hot sauce if you like.
Put cooked wings in a bowl and pour Dijon mixture over them. Toss well. You can serve right away or place under broiler for a minute or two to make them extra crispy.