Being an adult has its perks to be sure. No curfew, naps are optional (though we wish we'd taken advantage of them while we still could) bedtime is whenever we choose and we have the freedom to do just about anything we wish, as long as our finances and families allow for it. Now that I'm a "grown-up" though, I realize that this stage of my life is way different than I ever imagined. Juggling family, work, marriage and a household is less about fun and more about responsibility.
Replacing appliances, paying a mortgage, handling doctors bills and household repairs are just some of the things I've had to learn from as an adult but one of my most hated issues that have popped up over the years has been dealing with plumbing issues.
The first time I experienced my first clogged sink or toilet was when my daughter decided that it was a good idea to shove a bunch of crayons and toilet paper in the toilet. Of course, not having dealt with plumbing issues before, I automatically called a plumber and let me tell you, those guys are not cheap. At the time, I had no idea that I was able to address a lot of plumbing issues by myself with fairly inexpensive products that could be bought at my local stores. Although we don't have plumbing issues on a regular basis, we do get a clogged sink, shower drain or toilet from time to time, so, it's great to know which products to keep handy when such a situation arises.
Roto-Rooter is known as one of the largest providers of plumbing and drain cleaning services in North America, Roto-Rooter offers services to help repair and maintain your household and commercial plumbing systems. In addition, they also offer a line of products that you can use in-home that will help aid in preventing the need to call a plumber (did I mention those guys are costly?) to diagnose and treat your problem.
While working with Roto-Rooter, I was given the opportunity to try out a few of their plumbing maintenance products in my home. Among these handy products were the Roto-Rooter Gel Clog Remover, Hair Clog Remover, and Septic Treatment. If you've ever had experience with a clog in your kitchen sink, hair buildup in your shower/bathtub or issues with your septic system, then you'll definitely want to check out these 3 products!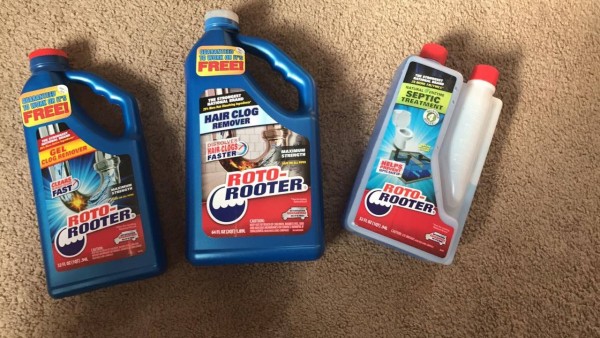 The Gel Clog Remover is a safe alternative for any type of pipe system you might have. It starts working immediately upon pouring it into the affected drain and clears up the issue quickly. Able to move through the clog quickly, the Gel Clog Remover clings to the clog and is capable of removing things such as soap scum, hair, and even grease, which is one of my homes main clog issues as I do a lot of cooking that involves grease types such as vegetable oil and meat grease.
The Gel Clog Remover has benefits that include:
25% more active ingredients
50% faster than other product brands
The Roto-Rooter Hair Clog Removal is vital to your plumbing product collection if you come from a family that sheds a lot of hair, like mine. I'm constantly fighting with our bathroom sink and bathtub/showers when it comes to hair removal. Not only can you use it on your bathtub drain but you can also use it in your shower drain and bathroom sinks as well. So, if you brush your hair over the sink or have long hair that sheds in the shower, you'll definitely put the Hair Clog Removal product to good use!
Like the Gel Clog Remover, the Hair Clog Removal product is beneficial because:
It works 50% faster than other brands
Has 25% more hair dissolving ingredients that are key to removing the buildup
and is just the right thickness to dissolve the clog quickly and efficiently
If you have a septic tank and have ever had issues, you know that you can spend thousands getting the issue resolved. In order to prevent and help maintain your septic tank, you can purchase the Roto-Rooter Septic Treatment product. Scientifically formulated to help prevent septic buildup and eliminate waste, this product is definitely one you'll want to keep on hand to use on a regular basis. The natural formula uses 2X more enzymes to help get rid of paper, fats, oils, grease, protein and starch. It's also beneficial for keeping yucky odors and dampness. You can use the Septic Treatment monthly to help prevent septic backups and a costly visit from your local septic company!
I can tell you from firsthand knowledge how expensive it can get to have a professional come out and remedy common plumbing issues. Some people might lack the know-how to fix these issues for themselves and can end up paying a ton in plumbing costs but with the help of Roto-Rooter, you can avoid calling your trusted plumber and fix a host of plumbing issues at home with their effective, safe and fast acting products!
To find out more about Roto-Rooter, you can visit them online to keep up to date with the latest product information and releases!
STAY SOCIAL WITH ROTOROOTER
Disclaimer: I was provided with Product and/or compensation in order to facilitate my review. All opinions are my own.