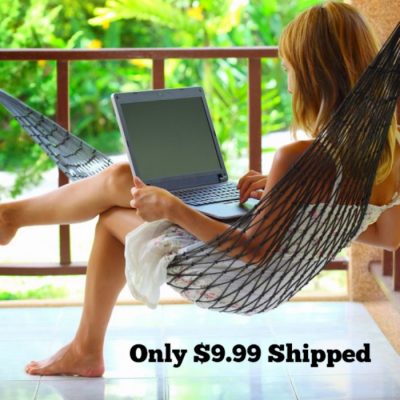 What a deal on this Portable Hammock with Carrying Bag $9.99 with coupon code SAVE10 at checkout  Free Shipping!
Set this up in the backyard, or bring it on-the-go so you can relax anywhere. Constructed with heavy nylon cord mesh, this durably designed hammock will provide a fantastic place to kick up your feet again and again. Steel rings and hanging ropes are included to assure secure attachment to weight-bearing objects. Simply place the hammock back into the convenient drawstring bag to store it away for the winter, or bring it to a new location.
Features:
Ideal for camping, traveling, backpacking & backyard lounging
Constructed from heavy nylon cord mesh
Secures with steel rings & hanging ropes
Supports up to 220 pounds
Packs easily in drawstring carrying bag
Measures approximately 6.5′ x 3′ though product has the ability to expand to fit space
What's Included:
One (1) Nylon Hammock with attachments
One (1) Drawstring carrying bag
* This post may contain affiliate links. Read my disclosure policy HERE.